Get certified as an equine Coach
AKA has created an efficient and modern education program that enables you to turn your dream and passion into a profession. We fully support you in your passion and are here to help you realize your dreams to becoming a successful entrepreneur. You will offer the horse industry unique skills in dealing with horses and people.
After passing the exam, you can enter into a cooperation contract with AKA submerging you into the powerful community of Equine and Equine Master coaches worldwide.
We will support you on our website as well as integrate and present you in our international PR concept. We open doors for you to a new professional and modern horse world. The certifications are tied to a continuous training program. In this way, the provision of new scientific findings and the professional standard of AKA can be ensured moving on in the future.
The certification program includes two certification levels:
EQUINE COACH
You are able to train horses efficiently, harmoniously, quickly and safely from a horse-centered perspective.
You are able acquire the vast knowledge of coaching which allows you to involve the horse owner and to teach and share your know-how.
You have the study results, the science-based information which you can convey, use on the horse and pass on to your customers.
Punitive tools of the archaic approach are not part of your training equipment. You can successfully train horses in a harmonious and horse-friendly way.
You give ordinary and non-phobic horses an excellent basic education which allows them a great start into their future. This includes working on the double lunge to prepare the horse for the farrier, the veterinarian, and trailer. Take his uncertainties and turn them into new challenges.
You can ride young horses in a safe way and optimally prepare them for riders of different equestrian disciplines.
You are part of a worldwide association of people who prepare horses quickly, efficiently, in an appropriate way and a horse-centered perspective. You're integrating the owner and trainer equally and competently.
Through our media your specialties are quickly becoming known in the marketplace.
The AKA supports you in founding your own company on the way to become an economically successful horse trainer with unique competence.
You are part of a global team that supports each other and interacts and communicates with each other in a unique and authentic way.
You have ethograms that allow you to recognize the horse's gestures on scientifically understood information. (the perception) Able to decipher the messages of the horse in a proper way and to answer them appropriately (the interspecific communication).Consciously using your own body language for communication to offer a special, personal expertise in the market (applying).
If you have chosen teaching as your main focus, you can offer AKA's two-day seminars exclusively in your barn and work for AKA as a teacher for certification courses.
Take part in the "Annual Congresses" and "Advanced Training Events" of the AKA, you continuously improve your knowledge and you are always informed about the latest scientific results.
Receive access to the AKA "Job Board" and accept offered training sessions for normal and young horses in training.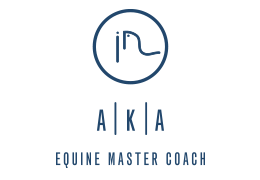 EQUINE MASTER COACH
You have all the skills of the Equine Coach and can complement, improve and professionalize the work for any professional stud, sable, or horse trainer in the horse industry.
You have unique communication skills with humans and horses and can help every horse owner to better understand the horse-centered perspective.
You are able to free horses from fear-dominated behaviors of all aspects, equestrian disciplines, coach, and horse owners. Creating a professional training team around the horse to solve problems for the long-term.
You can master the history of a phobia and create an effective training plan. You work harmoniously, calmly and solution-oriented with human and horses.
Use the global team of Equine and Equine Master coaches to help each other spread globally and to help people and horses to a stronger and more self-reflective coexistence.
You'll work faster, with more fun, enjoyment and peace after graduating from the phobic course. More efficient than conventional instructors who do not have this education and your unique knowledge.
You now have fully understood EBEC and find solutions independently even for complex and difficult tasks.
If you have chosen to focus on teaching you can exclusively teach special seminars for example on the subject of trailer loading and other topics developed by the AKA.
Upon request you are permanently integrated into AKA as teaching staff.
You have the opportunity to be a Country Manager (if the desired country is still available) of AKA and to expand AKA and EBEC global.
You can work in the AKA as a teacher for certification courses.
Access to the AKA "Job board" and accept all offered trainings. Especially posts with "problem horses" that have a phobic anxiety behavior.
In AKA we pursue the goal to train top-class equine coaches with professionalism, focused motivation and flat hierarchies between coaches and graduates.
We see it as our most important task to motivate you as an aspiring Equine Coach to continuous learning and to support you on your journey in the best way possible. This journey starts with the registration to our basic course. Then the actual learning begins with accumulation of experiences, with the constant endeavor to step out of your own comfort zone, and a setting of purposeful tasks. Everything stands and falls with the openness of our graduates. We do everything we can to encourage you to improve your own skills and to enable you to continuously evolve yourself.